PY95 Moomprimer
Description
PY95 Moomprimer is a solvent based, full-bodied polymer modified bituminous coating, without fillers, pigments, lead and cobalt which is applicable on all metal types (rustles or rusty), eliminating the need for sandblasting. With its high penetration and adhesion capacity, it buries all the corroded and folded parts and reaches the microscopic layers of metals, seals the surface, and protects it against corrosion, rust and most corrosive agents.
Functions
Control and protection of metals (rustles or rusty) against most corrosive agents.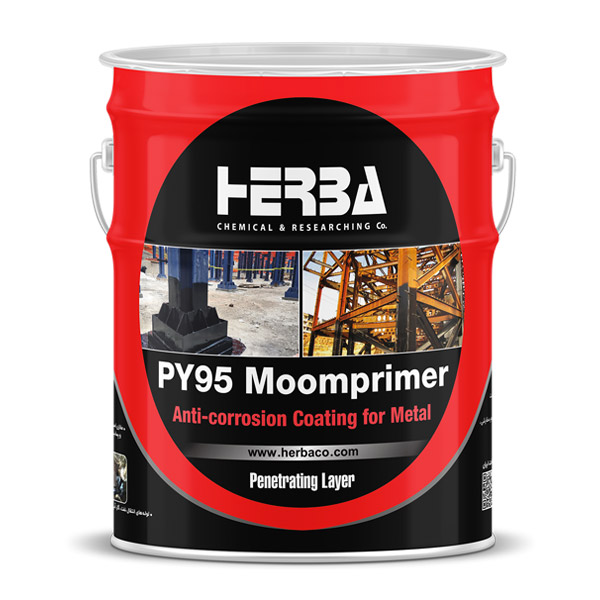 Typical Uses
PY95 Moomprimer is used where a cold applied, effective, protective, weatherproof and corrosion resistant coating is needed. For instance, exposed and buried metal structures (rustles or rusty) including:
✔ Steel Structure & Industrial Shed
✔ Steel Column Base & Base Plate
✔ Steel Reinforcement
✔ Metal Profile & Steel Façade Frames
✔ Metal Tank to hold Acid & Alkali & Industrial Effluent
✔ Mechanical Installation & Chiller
✔ Water, Sewage, Oil & Gas Pipelines
✔ Corrugated Steel Plate & Sheet
✔ Metal Power Towers
✔ Metal Bridges
✔ Metal Silos
Advantages
No need for sandblasting

Applicable on rust & color

Superior penetration and adhesion

Cold applied & ready-to-use

Easy application & easy repair process

Cost effective & optimum coverage rate

Highly resistant to bending and stretching

Weldability

No cracking and scaling

Resistant to cold and heat

Durability and long-term quality preservation

Resistant to humidity, acid, alkali, chloride ion and sulfate
Licenses
1. Ministry of Petroleum (Iran) Vendor
2. The Institute of Standards and Industrial Research of Iran
3. Research Institute of National Iranian Petroleum Industry Oil Company
4. National Iranian Gas Company
5. Road, Housing and Urban Development Research Center
6. Tehran College of Electrochemistry
7. Amir Kabir University of Technology
8. Razi Metallurgical Research Center
9. Iranian Ministry of Roads and Urban Development Laboratory
10. Ministry of Defense
Technical Data
Color: Black

Base: Bituminous

Finish: Half-mate

Resin Type: Polymer

Density: 0.9 ±0.05 g/cm3

Number of Components: Single Component Coverage

Suggested Thickness in Different Applications: 50µ∼ 80µ

Coverage Surface per Desired Thickness: 5-3 Square Meter
Coverage
⦁ Suggested Thickness in Different Applications: 50µ∼ 80µ
⦁ Coverage Surface per Desired Thickness: 5-3 Square Meter
Implementation Method
Surface preparation
Surfaces onto which the PY95 Moomrimer is to be applied must be clean from loose layers, humidity, soil, grease or oil stain. Can be applied on rust without requiring rust removal.

First Layer: Apply a penetrating PY95 Moomprimer layer, using paint brush, roller, airless or pistol, with a minimum thickness (50µ) to ensure complete surface coverage.

Second Layer: Twenty-four hours after application the first layer, apply the PL85 Moomrimer as a top coat with a proper thickness depending on the corrosion rate.
Minimum thickness will suffice to cover healthy metal surfaces. Please, study the current conditions of the desired surface to choose a proper thickness. Protect the covered surface from rain and getting wet for 24 hours.
Application of PY95 Moomprimer
Implementation Tools
✔ Paint Brush, Roller, Airless and Pistol spray.
Package
4 Liter Container

20 Liter Container
Storage
Long-term Storage

No Restriction in Cold and Heat

Storage Limit: 4 Rows of Barrels per Column

Storage Limit: 7 Rows of Gallons per Column